Over the years I've done several different birthday displays. I started off using pre-made posters, then moved to pre-made bulletin board displays, and then moved the bulletin board displays to a wall. This year I decided to do something different. Sticking with my safari theme I created a picture display.
I stole this idea from the fabulous Erica Boher.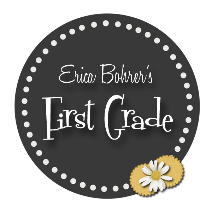 Her birthday display can be found here on her blog.
I love this display. I'm thinking it's a keeper.
I cut the letters for "Born to Be Wild" using my cricut and some cut animal print scrapbook paper. I'm posting my number cards and my month cards I made for the display.